When most people think of firewood, they imagine chopping logs with an ax. But there is another way to split firewood that doesn't require any strenuous labor – firewood splitter drill bits. Firewood drill bits are designed to make splitting firewood easier and faster. Instead of having to swing an ax repeatedly, you can simply drill through the log with a firewood drill bit.
What are firewood drill bits and how do they work
Firewood drill bits are conical metal bits that are attached to a power drill. To use a firewood drill bit, you simply need to drill through the log. The firewood drill bit will do all the work for you.
When the conical drill bit goes deeper into the log, it breaks the wood into pieces. It means that you can easily split firewood with a firewood drill bit almost without having to put in any effort.
Just make sure that your drill is powerful enough. If you have a cordless drill, it might not be able to handle the firewood drill bit.
Wood drill bits video
Do firewood drill bits work
Firewood drill bits are quite effective at splitting firewood. In most cases, they can split firewood just as well as an ax. However, there are a few things to keep in mind when using firewood drill bits. First, firewood drill bits are designed for use with power drills. If you don't have a power drill, then firewood drill bits will not be effective. Second, firewood drill bits are not effective on very small logs. Finally, firewood drill bits can be dangerous if not used properly. Always wear safety goggles and gloves when using firewood drill bits.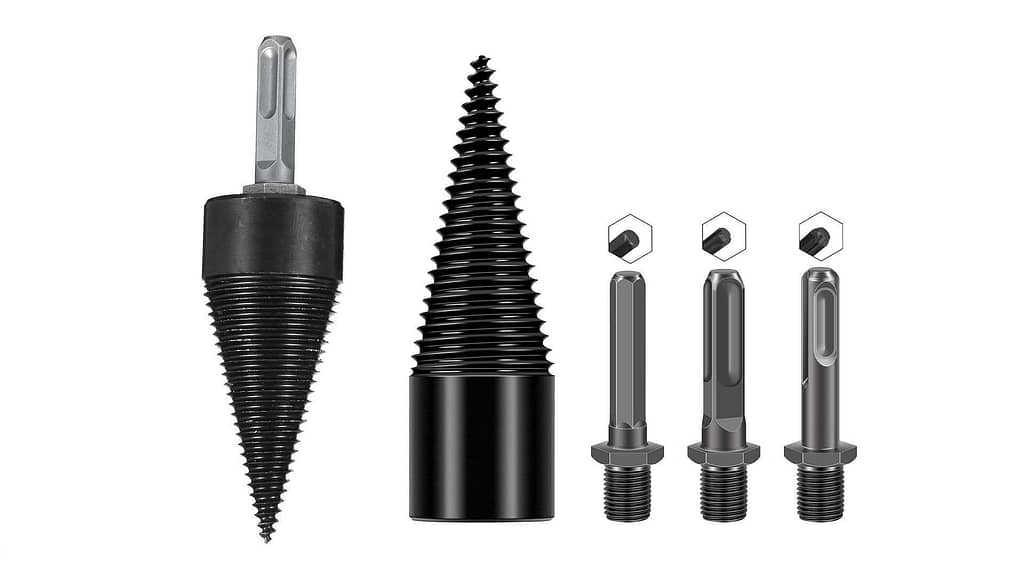 Firewood splitter drill bit review
Do firewood drill bits work is not the question. Anyone with a basic understanding of mechanics understands that it simply can't not work. The execution is another matter – a lot depends on the material used, the angle of the cone, the pitch of the thread, and of course the wood you're trying to split. I don't use a firewood drill bit as I live in the city and don't have a fireplace in my flat. So I'll go over the real reviews from customers who have purchased firewood drill bit and are using it.
Positive firewood splitter drill bit reviews
A brilliant bit of kit, so easy to use.
A good little gadget does a great job of splitting wood up to make it kindling.
This splitting drill bit makes light work of doing my kindling wood with a cordless drill.
I have a battening that I am splitting for the fire. Unfortunately, it's full of nails, which our fires won't tolerate. With this device you simply bring the point to the nail, a quick swipe of the drill splits the battens and the nail falls out. It really is that simple. It probably helps that I cut the battens into six-inch sections before splitting. It may not work with large pieces of wood, but for me it's perfect.
Great tool and very cheap, does exactly what it should.
Great for small planks (pallet wood) and great for kindling.
Negative firewood splitter drill bit reviews
I bought it to cut large logs, but it enters about 3 mm, stops, and starts to spin the log. Not what the video showed – very disappointing.
Stuck as soon as I tried to put it into a piece of wood. I do not recommend anyone to buy this product. A complete waste of money.
It will probably fit, but, alas, there was no shank in the kit, so you can't use it.
It continually wanted to rotate the drill out of my hand. It might just be me but I found it dangerous to use.
It doesn't work at all as it does in the video. It bites into the wood without splitting, be careful to secure the log you are splitting as it can easily get stuck and spins the log.
Looks like a good idea in principle, but just doesn't work. Drills wood, and then gets stuck, the logs do not split, only the smoke from the drill.
Tried it in the hardwood block and it just got stuck. Cannot remove it. If you reverse the drill it just unscrews from its shaft. Would not recommend it at all.
Tried to use this on several different logs, different areas of the log, and different drills. It did not split any of them. Utterly useless.
As you see, there are more negative reviews than positive. Yes, I know that people are more likely to write negative reviews than positive ones. I also see from some of the negative reviews that people either just didn't read the product description or they are inherently clumsy. But to be completely honest, most of the firewood splitter drill bits only have a 3-star rating.
Firewood splitter drill bit prices
As I noticed the rating of a product directly depends on the price. Cheap firewood splitter drill bits have a lot of negative reviews and low ratings, expensive ones have positive reviews and high ratings.
If you are prepared to wait a little longer, you can buy a firewood drill on AliExpress. The average price there is around 10 euros. AliExpress is the source for most of the wood drill bits you will find on Amazon and eBay. The average price on Amazon is around 15 euros.
If you are looking for a quality wood drill bit, the price will start at around 45 euros.
I advise you not to be fooled by the cheap wood drill bits.
Best firewood splitter drill bit
The best firewood splitter drill bit I found is the "forsplit." That's just my opinion, maybe I overlooked another gem. "Forsplit" is not a one for all drill bit, it has different sizes for different logs.
The "forsplit" brand is created in 2015 by DEFCOM Company, Poland. Under this brand, the company promotes all its products for the wood industry.
Conclusion
I think firewood splitter drill bits are a great invention. I like that there are different sizes for different logs. It makes work easier, and it's less expensive than a log-splitting machine. However, there are many low-quality items on the market, so you have to be careful what you buy.
Firewood Splitter Drill Bit
Firewood drill bits are a must-have for any homeowner who relies on a wood-burning stove for heat. Not only are they more efficient than traditional ax, but they're also easier to use, making them a great choice for anyone who doesn't have the time or energy to split firewood the old-fashioned way. And because firewood drill bits produce smaller pieces of wood, they're perfect for kindling, ensuring that your fire gets started quickly and easily. With a firewood drill bit in your toolbox, splitting firewood will be a breeze - no matter what time of year it is.
Product SKU: 0-0082539-12
Product Brand: Forsplit
Product Currency: EUR
Product Price: 249.00
Price Valid Until: 2025-12-31
Product In-Stock: InStock
Pros
Easy to use
Makes work easier
Can be used with different drills
Different sizes for different logs
Inexpensive compared to log splitting machines
Cons
Many low-quality items on the market
Often stuck and spinning the log
Not suitable for clumsy users