Curved Hardwood Flooring Coming to Ireland
Although curved hardwood flooring has been available in the world for some time, these luxurious wood floors are just beginning to appear in Ireland. Luxurious and eco-friendly curved hardwood flooring is a perfect choice, it's certain to add beauty and elegance to any home!
Nature Returns
Wood has always been a popular choice for flooring, thanks to its durability and natural beauty. However, traditional floorboards are usually cut into straight, uniform pieces that can feel stark and impersonal. Thankfully, modern technology has made it possible to preserve the natural curves of the wood, resulting in floors that are both unique and environmentally friendly.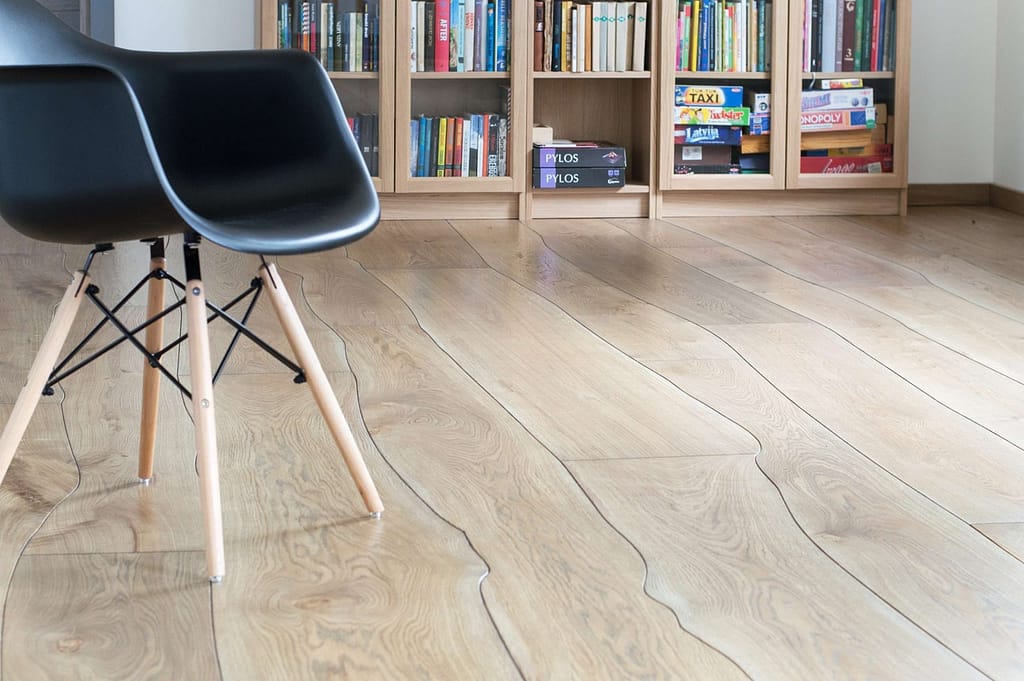 By minimizing waste and making use of every last bit of lumber, these floors help us to respect the resources that nature provides. In addition, the organic shapes of each board give rooms a warm, welcoming feel that is far more inviting than a standard floor. With so many benefits, it's no wonder that floors, as nature intended, are becoming more popular every day.
Technology
Curved hardwood flooring is made from two layers, where a 5.5 mm oak lamella glued on 12 mm plywood, so you can be sure that it will last for years. The top layer is wear-resistant and easy to clean, while the plywood ensures stability and prevents the floor from warping over time. Thanks to experienced staff and advanced technology, these floors can be made with different textures and in different shades of colour.
One-of-a-kind in every sense
Curved flooring offers a level of individuality that is unparalleled by any other type of flooring on the market. Each floorboard is as unique as the tree it came from, meaning that no two boards are alike. This allows for a level of customization that is perfect for any space, whether it be a residence, commercial space, or retail environment. Curved hardwood floors are also perfect for any setting where intimate, natural, and individual interiors are desired. No matter what your specific needs may be, curved flooring is sure to have a design solution that will work for you.
Curved Hardwood Floor Installation
Same as with other types of flooring, a curved wood floor is not something that a regular person could install on their own. If you are not experienced in this area, it is best to hire a professional who will know how to properly lay the floor and avoid any issues.
The installation of these floors requires special tools and expertise that only a professional flooring company can provide. While it may seem like a daunting task, the result is always worth the effort. After all, there's nothing quite like having a one-of-a-kind floor that perfectly matches your individual style.
If you're interested in adding a touch of luxury to your home or business, contact a professional flooring company. They will be able to help you choose the perfect design and colour for your space and provide a free quote on installation.
Featured Company – ELFS
ELFS will be with you every step of the way, from choosing the perfect floor for your needs to providing a professional installation that will ensure your floors look beautiful for years to come. For more information on ELFS and their services, visit their website and give them a call. You're sure to be impressed by their wide selection of curved hardwood floors and their commitment to customer satisfaction.
What are the benefits of curved hardwood flooring?
Curved floors add an element of luxury and can make small spaces appear larger. These floors are also eco-friendly and made from sustainable materials. In addition, curved hardwood floors are easy to clean and maintain, making them a perfect choice for busy families.
Final Thoughts
There are many reasons to consider curved hardwood flooring for your home or business. These floors are unique, eco-friendly, and easy to maintain. If you're looking for a flooring option that will make your space look its best, contact a professional flooring company. You're sure to be impressed by the beauty and durability of curved hardwood floors.